Your instructor is Mr. Khaled K.H.
First-degree lecturer in Arabic language and culture.
(A graduate of the Netherlands; work experience since 1987)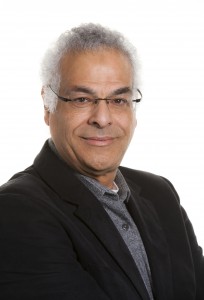 By studying at Arabish.nu you study with Khaled H. Khaled, a native speaker of Arabic who has 36 years of experience in teaching Arabic working alongside the Public University of The Hague, Dordrecht, and Amersfoort. He also worked for three years at Babel Language Institute in Utrecht. As well as he worked for Special Tribunal for Lebanon and International Criminal Court.
Khaled was taught teaching principles at The University of Amsterdam and has also gained a TAFL (Teaching Arabic as a Foreign Language) certificate from Leiden University. Khaled is from Egypt and lived in Amsterdam and The Hague, Netherlands for 49 years so has a wealth of experience of the Arabic language and culture. Khaled has experience in teaching individuals and groups including private companies, public sector organizations, and non-profit institutions. A course with Arabisch.nu and Khaled H. Khaled is the best way to understand more about Arabic culture and language, besides the Arabic Calligraphy and Egyptian Colloquial Arabic (ECA).
Curriculum Vitae
Education
| | | | |
| --- | --- | --- | --- |
| Duration | Training | Institute | City, Country |
| 3 years | Teacher training Arabic First Degree | | Amsterdam, the Netherlands |
| 2 years | Management training | | Houten, the Netherlands |
| 4 years | Teacher training Arabic Second Degree | | Amsterdam, the Netherlands |
| 3 years | English Language | | Cairo, Egypt |
| 5 years | Electrical Engineering | | Cairo, Egypt |
Training courses
Course

Hours

Year City, Country

The grip on your capital (3)


8

2014, Elsevier, the Hague, the Netherlands

Social Media


8

2014, Public University, Amersfoort, the Netherlands

Business Process Management, 'bmp 2013'

8

2013, Houten, O&I Management Consultants, the Netherlands

The grip on your capital (2)


8

2013, Elsevier, the Hague, the Netherlands

Teaching Arabic as a Foreign language (TAFL)

216

2013, NVIC, Cairo, Egypt

The University of Leiden, the Netherlands

The grip on your capital (1)


8

2012, Elsevier, the Hague, the Netherlands

Intensive individual language training course in Dutch

70

2011, Institute Regina Coeli, Vught, the Netherlands

Summer school training " Profiler yourself, "
" More influence on yourself" and " Mindfulness "

24

2010, Van Harte & Lingsma, Leiden, the Netherlands

Orientation on Extra-curricular Learning

16

2009, Kenniscentrum Handel, Ede, the Netherlands

Perspective on health care

18

2008, ISO, Gouda, the Netherlands

Identify and plan of action

36

2007, HCO, the Hague, the Netherlands

Life style

36

2006, Meppel, the Netherlands

The policy of aggression and violence

18

2005, The Hague, Netherlands

Teachers coaching

32

2004, Universiteit Utrecht, Utrecht, the Netherlands

Students Guide and Tutor

15

2003, The Hague, Netherlands

Dealing with fear, resistance, and aggression

32

2002, CPS, Amersfoort, the Netherlands

Computer lab modules (action, carrier Plus)

180

2001, The University of Chicago, United States of America

Expert CITO Exam Development

25

2000, Cito, Arnhem, the Netherlands

European computer driving license (ECDL)

108

1999, The Hague, Netherlands

FrontPage 2000

9

1998, Compu'Train, Drachten, the Netherlands

First Aid

18

1997, The Hague, the Netherlands

Security

18

1996, The Hague, Netherlands
Work experience
| | | | |
| --- | --- | --- | --- |
| Period | Experience | Employer | City, Country |
| 2022 – to date | Lecturer in Arabic | | The Hague, Netherlands |
| 2022 – to date | Lecturer in Arabic | | Amersfoort, Netherlands |
| 2022 – to date | Trainer Arabic Language (beginners to advanced) (The training and the course were given in the English language) | OPCW (Organisation for the Prohibition of Chemical Weapons) for The United Nations | The Hague, Netherlands |
| 2019 – to date | Lecturer in Arabic | | Amsterdam, Netherlands |
| 2019 – to date | Lecturer in Arabic | | Niijkerk, Netherlands |
| 2018 – to date | Examiner | | The Central Government of the Netherlands |
| 2018 – to date | Teacher of Arabic (elementary to advanced level) | | Gouda, Netherlands |
| 2014 – to date | Lecturer in Arabic | | Leiden, Netherlands |
| 2009 – 2012 | Teacher of Arabic (elementary to advanced level) | | Utrecht, Netherlands |
| 2009 – 2010 | Trainer Arabic language (The training and the course are given in the English language) | Special Tribunal for Lebanon (Stl-Tsl) for the United Nations | The Hague, Netherlands |
| 2008 – 2009 | Trainer Arabic language (The training and the course are given in the English language) | International Criminal Court (ICC) for the United Nations | The Hague, Netherlands |
| 2007 – 2010 | Lecturer in Arabic (for the teachers) | Islamic Foundation, in Dutch Schools | Amsterdam, the Netherlands |
| 2006 – 2008 | Lecturer in Arabic | Talent languages | Utrecht, the Netherlands |
| 2006 – 2023 | Lecturer in Arabic | Public University | The Hague, Netherlands |
| 2006 – 2007 | Lecturer in Arabic | Irfan educational center | The Hague, Netherlands |
| 2005 – 2007 | Manager, Arabic Department | Digischool.nl, daughter company Kennisnet.nl | – |
| 2005 – 2011 | Member "Modern Language" | – | – |
| 2005 – 2009 | Lecturer in Arabic | Public University | Dordrecht, the Netherlands |
| 2004 – 2007 | Lecturer in Arabic | Public University | Delft, the Netherlands |
| 2004 – 2006 | Arabic language and culture course | Hague University, Students Association El Mashriq | The Hague, Netherlands |
| 1999 – 2001 | Webmaster | European Platform for the Department of Education (Arabic) | Gouda, the Netherlands |
| 1998 – 2006 | Member LAVAT (National Association for teachers in the Arabic language) | Secondary Education | The Netherlands |
| 1998 – 2012 | Special teacher Arabic and Exact subjects, Areas Manager, Lab Master, and teachers' and students' coach | Johan de Witt College | The Hague, the Netherlands |
| 1996 – 1998 | Project member | Different Freelance projects: APS (ICT), European platform (KPS), translation agencies | The Netherlands |
| 1991 – 1993 | Poll-taker | Various research agencies: Nipo, NSS, Team Four, Inter/View, and Ogilvie | The Netherlands |
| 1987 – 2023 | Teacher of Arabic (elementary to advanced level) | Public University | Amersfoort, the Netherlands |
| 1978 – 1998 | Assistant Manager, Manager Logistics/steward section | Dutch Congress Centre | The Hague, the Netherlands |
| 1974 – 1978 | Manager | English catering company | The Netherlands |
Permalink Comments off